Albert Heights Serviced Apartments:
Melbourne Apartments
Albert Heights Serviced Apartments offers Deluxe to Superior Melbourne Apartments
Our Melbourne apartments are serviced daily
Albert Heights Serviced Apartments Melbourne has long been a favourite for executives visiting Melbourne on short or long term business visits and family on holiday in Melbourne. Albert Heights Melbourne Apartments are spacious, serviced daily and our friendly staffs will do their best to make your stay in Melbourne as comfortable as possible.
Albert Heights Offers Various 4 Star Melbourne Apartments
Find The One that suits your requirements from our Melbourne apartments
Select from Albert Heights 4 star serviced apartments which can accommodate up to 4 adults or 2 adults and 3 children, great for family travelling with children or looking for budget accommodation in our Superior Serviced Apartments. Business travellers love to stay at Albert Heights Serviced Apartments as our newly refurbished Deluxe Serviced Apartments are tailored for business needs and if you love that extra space, book our Premier Serviced Apartments.
Albert Heights Serviced Apartments :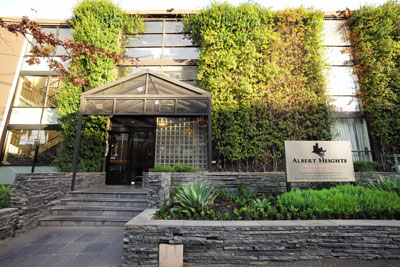 Book Online
Check Rates & Availability
RECEPTION HOURS
Check In Time: 2pm Check Out Time: 10am
Office Opens from 10am to 3pm Daily
Guests planning to check in AFTER 8pm please call the hotel prior to the check in date to be advised of after hours check in procedure.